Press


**************************

"Rebetika Group Performs to Celebrate Classic Greek Music"
By Rachel Monnier on Aril 12, 2011
in "Indiana Daily Student"

Song and dance from Greece filled the auditorium of the John Waldron Arts Center on Monday as Rebetiki Istoria entertained the crowd.
Rebetiki Istoria, meaning "rebetika history," is the oldest and most famous rebetika musical group in Athens, Greece, according to the event's program. Rebetika is a genre of music developed in the late 19th and early 20th centuries by the working classes in urban areas of Greece.

Frank Hess, coordinator of the modern Greek program at IU, helped arrange the performance after hearing the group members play at the University of Michigan two years ago. Performing in Bloomington was part of their second visit to the United States."They play almost exclusively at a club owned by the lead singer Pavlos Vassiliou," Hess said. Although the music was sung entirely in Greek, audience members received both the Greek lyrics and English translations. Rebetika songs tell the stories of the people who wrote them and their struggles with unemployment and poverty, love and loss and historical events.

Another element of rebetika music is the instrumentation. The six-member group consists of violin, guitar and bouzoukis, which are six-stringed chordophones. Violinist and bouzouki player Yona Stamatis is the only American member of Rebetiki Istoria. "I came across these musicians as part of my ethnomusicology studies at the University of Michigan," Stamatis said. A Ph.D. candidate, Stamatis studied abroad in Athens for three years to find musicians who knew the old style of rebetika, which has unique scales.She came to Vassiliou's club every night to hear Rebetiki Istoria play until they invited her to join them and learn the traditional songs."It was the best education I ever had," she said.
Many rebetika songs are composed in dance rhythms, which caused audience members to nod their heads and tap their feet to the beat. Several dancers began traditional Greek line dances and invited audience members to join until the stage filled with more than 30 people of all ages.
Anelia Hanes was an eager audience participant.
"It's an adaptable dance from the Balkans," she said.

Hanes participates in a folk dance group in Indianapolis and came to Bloomington for the performance.As the rhythmic songs progressed and moved faster, the dancers jumped and kicked their legs higher. Remaining audience members clapped and several shouted "opa" at the conclusion of the upbeat songs. Although it has no specific definition, opa is a Greek expression of joy, and an ideal reflection of the well-received performance.

***************************


*****************************
Athens' Rebetiki Istoria to Perform in Chicago
By Maria A. Karamitsos on April 06, 2011
in "The Greek Reporter"
Katerina's, an eclectic club with its soul in the arts, will host two special shows this weekend. On Friday, April 15, Katerina's presents Rebetiki Istoria, on tour from Athens, Greece. This is their only Chicago appearance. The group is comprised of Pavlos Vassiliou on voice/tzoura, singer Eirini Liokoukoudaki, Nikolaos Menegas and Giorgos Petroudis on bouzouki, Vangelis Nikolaidis on guitar and Yona Stamatis on violin. The group is said to perform many early Rembetika works, including a repertoire of difficult and unusual songs rarely performed today. This special night of live Rembetiko is not to be missed.
*****************************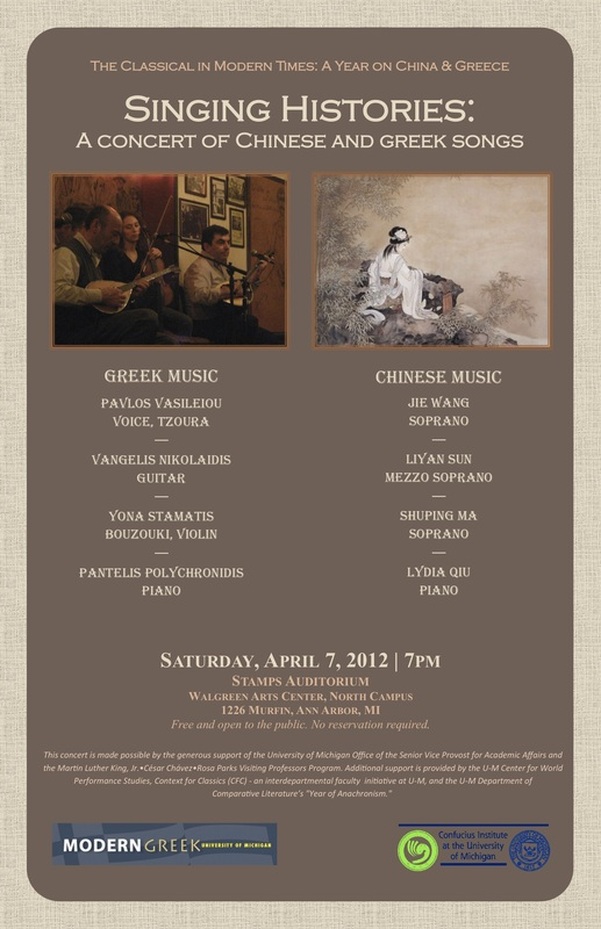 *****************************


Excerpt:
"Rebetika Music Provides Greek Resistance Among Outside Political Pressures"
By
Kelsey Donk
on
April 25, 2012
in "The Index"
Last Tuesday night, Stamatis and Vassiliou joined again over Rebetika music to perform for students, faculty, and community members at Kalamazoo College. Stamatis, a Mellon postdoctoral fellow and visiting professor, introduced the two-hour performance on Tuesday night as an educational opportunity. In the week before the concert, Vassiliou interacted with students in Stamatis' classes and in the Anthropology and Sociology department to help them understand rebetika. Stamatis stopped during the concert to provide a history of Greece and Rebetika music, the topic she researched for her dissertation.
Rebetika developed in the late-nineteenth century in urban Greek cities. According to Stamatis, rebetika artists usually sing about poverty, love, and loss..."Rebetika is not only a style of music: it is a way of life and a worldview," Stamatis said in an email. "I believe that the serious and devoted rebetika musician does not make an active choice to play rebetika. Rather, the music chooses her." Vassiliou plays at his tavern every night, but rarely plays elsewhere, so this concert was very special, Stamatis said. "The Rebetiki Istoria residency has allowed students, faculty and community members to experience live rebetika performance, a rare treat for American audiences," Stamatis said.
"I lived alone without love, and all was dark around me," Vassiliou sang in Greek as he played his traditional tzoura instrument. "This one is a bit darker, but it gets happier towards the end," Stamatis said as the introduced the grouping of the three happiest rebetika love songs she could find. As Vassiliou sang, other band members Nikolaos Menegas and Vangelis Nikolaidis and Stamatis herself played the bouzouki and guitar and joined in to sing."